About Walt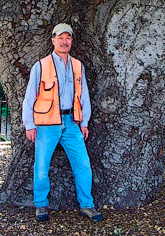 Walt Fujii's extensive background in horticulture and later arboriculture began in 1974 as a nursery manager and landscaper. His work experiences include: Garden Supervisor at the Rosicrucian Park (Egyptian Museum) in San Jose; Landscape Specialist and Tree Worker at San Francisco State University and City Arborist for the City of Menlo Park.
These practical work experiences provided the skills to complete tree assessment reports, tree management plans and tree protection plans for municipal and development projects as a Consulting Arborist with the firm of Ralph Osterling Consultants, Inc.
Since starting his own firm, Fujiitrees Consulting, LLC in January 2012, Walt continues to utilize his diverse skills to provide the services required by his municipal, commercial and private clients. The locations of his completed and on-going projects are throughout northern California and include various sites and municipalities in the San Francisco Bay Area.
He is a Registered Consulting Arborist No. 402 by the American Society of Consulting Arborists (ASCA) and a Certified Arborist No. WE 2257A by the International Society of Arboriculture (ISA). Walt also holds a current Tree Risk Assessment Qualification (TRAQ) by the ISA, and is a current Qualified Applicator Certificate from the State of California No. 82521. He is also a Certified Aesthetic Pruners Association Certified Aesthetic Pruner No. 010. Between 2014 to 2017 Walt was appointed to and served on the Tree Advisory Board for Alameda County. In 2016, he served on the national Board of Directors for the American Society of Consulting Arborists (ASCA).